A foul smell cured at last!
BlocksAway were called out by a despairing customer in Newmarket, who had been suffering from a horrible sewage smell in one of his properties, built only 9 months before.
A succession of 3 plumbers had tried to find the source of the smell but to no avail; one had even installed a new vent pipe.
Steve did an initial cctv survey of the underground foul drainage, but could discover no obvious faults. He then sealed off the drainage system outside and introduced 4 smoke bombs to dramatic effect! Smoke billowed out of a downstairs cupboard in the house; on removing the floor boards an unused but unsealed connection piece was discovered beneath, leading from the toilet drainage; if there had been a blockage further down the line this would have resulted in raw sewage filling the cupboard! the solution was to simply cap off the offending connector.
Thank you for coming so promptly yesterday and, more importantly, clearing the drain blockage so efficiently.
A very good service, which I have no hesitation in recommending to others.
Best Wishes
Roger H
Godmanchester
Blocksaway Ltd. attended a house in Girton where the client had experienced huge problems with their foul drains constantly blocking. Steve soon discovered this was caused by the worst case of tree root ingress he had ever come across, and having high pressure water jetted the pipework to remove the roots and restore it to full bore there was no alternative but to get very wet and remove the root balls from the manhole by hand. Our client was so grateful he paid Steve for an extra hour to get some new wellingtons!
You can view some images of the offending Rootball via the link below.
http://www.flickr.com/photos/81004116@N00/7397008088/in/set-72157630182868586/
Dear Steve
Thank you so much for the fabulous service today. I was so relieved that you were able to come so quickly at short notice, and unblock my kitchen sink drain in about 5 minutes! It is great to have such friendly and efficient service and I would recommend you very highly.
Thanks again,
A B
Cambridge
Blocksaway Ltd are pleased to announce that they have been accepted as a member of The Guild Of Master Craftsmen. details can be found here.
Chairman of Blocksaway Ltd., Kevin Doyle, returned last December from a 1400 mile car rally in S. India from Goa to Kerala via the W. Ghat mountains through Karnataka and the tea plantatations of Tamil Nadu; the car was an " Ambi" essentially our old Morris Oxford still manufactured in India. He raised £4,500 (including sponsorship from Blocksaway Ltd), which has been split equally between the English charity The Rainbow Trust, which helps families with terminally ill children, and an Indian charity Adventure Ashram , which funds education and medical projects for the poor children of S.W.India.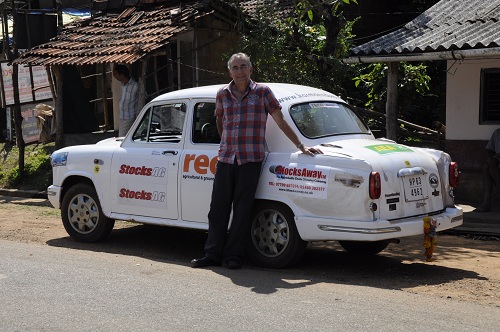 Kevin said the most important instrument in the car was the horn and that the driving style in India was extremely "exciting" (read : dangerous) but everyone accepted it as normal and there was no road rage!
All Saints' is predominantly a 15th century building in the perpendicular style but there was originally a saxon church on this site in the very centre of Huntingdon.
Blocksaway chairman, Kevin Doyle, has a particular interest in church buildings, being a churchwarden himself and having acted as grant secretary for Cambridgeshire Historic Churches Trust for over 10 years.
All Saints' Church in the Market Square, Huntingdon had flooding problems during heavy rainfall. The churchwardens called in Blocksaway in October to sort out the problems ; it took just 4 hours to clean every downpipe,gulley and drain using a high pressure water jet at 3000psi; some of the problems were caused by tree roots which were removed.
Since its formation 2 years ago Blocksaway Ltd. has always maintained an ethical approach to its emergency drain cleaning operations, assuring our potential clients that "we will never take financial advantage of those in urgent need of help".
In line with this policy, we have decided to charge our normal weekday rate of £89 for emergency call-outs at weekends and in the evenings as well.
This competitive rate is not subject to the addition of VAT or any other hidden charges.
A Mrs. D. H. of Yaxley, nr. Peterborough had the ultimate nightmare when she went to work on Tuesday morning 13th September '11;as she approached her car she dropped her only keys through the grating of a roadside drain.
She called a well known national drain cleaning company and was quoted £120+ vat! Another refused to come out saying they were not allowed to lift roadside gullies. Third time lucky she rang Blocksaway Ltd and we came out to her straight away retrieving the keys for a nominal charge of £30(and no vat!).
A director of Blocksaway reminisces on the occasion when as a director of a national competitor he was asked by an insurance company to send an engineer to a pub in Lincolnshire, where the landlady claimed she had lost a large diamond from her wedding ring down the waste whilst washing up the beer glasses.
All 10 yards of 2" pipework and the bottle trap were carefully dismantled , cleaned and checked and the gulley outside to which the pipework led carefully emptied, but no sign of the diamond!
The engineer reported back that the ring clasp appeared rather too cheap to have held a diamond, but we don't know the eventual decision of the insurance company.